EucoLight, the European Association of lighting WEEE compliance schemes, continues to find evidence that the amount of Electrical and Electronic Equipment sold online that do not contribute to waste recovery and recycling fees is exceptionally high.
In October-November 2022, EucoLight updated its multinational study on non-compliance with national WEEE requirements conducted in 2019. The study undertaken in 9 countries has shown a persistent high level of non-compliance across various product groups. In the case of LED lightbulbs, the non-compliance was in the range of 65%-100% in 8 of the participating countries.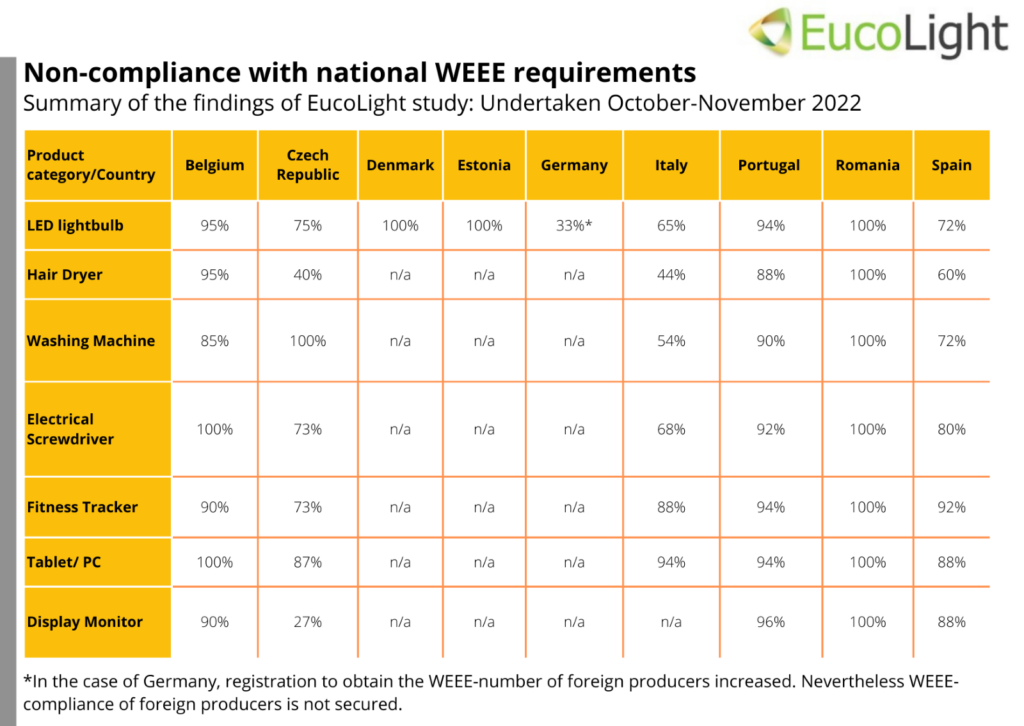 Some Member States, e.g., France, Germany, Austria, Spain, and Finland, have been implementing national legislation to prevent Extended Producer Responsibly non-compliance via online platforms. However, the European legislation currently fails to give an adequate solution. The absence of a party based in the EU that can be held liable for an illegal activity online on online marketplaces aggravates this non-compliance issue. This not only makes that compliant EEE producers must face unfair competition but also has a negative impact on the environment. Marc Guiraud, Secretary General of EucoLight, emphasises: "We want more obligations for online marketplaces, we are calling on EU policymakers to solve the remaining free-riding issue in the upcoming revision of specific legislation, like the WEEE Directive".
-ENDS-
About EucoLight:
EucoLight is The European association of collection and recycling organisations for WEEE lamps and lighting. On behalf of its members, EucoLight engages with everything related to the WEEE Directive, legislations and standards affecting the collection and recycling of WEEE lighting. Its members collect and recycle, in aggregate, 80% of the lamp waste collected in the 18 countries in which they operate. EucoLight is the voice of European WEEE compliance schemes specialised in managing the collection and recycling of WEEE lighting; working to make the circular economy a reality for lighting products. EucoLight has 18 PRO members: AMBILAMP (Spain); Appliances Recycling SA (Greece); Ecolamp (Italy); Ecosystem (France); EES-Ringlus (Estonia); Ekolamp s.r.o. (Czech Republic); Ekolamp (Slovakia); Electrão (Portugal); Electro-Coord (Hungary); ElektroEko (Poland); Elretur (Denmark); FLIP (Finland); Lightcycle (Germany); LightRec (Netherlands); Recolamp (Romania); Recupel (Belgium); UFH (Austria), ZEOS (Slovenia) and one affiliate member, LightingEurope. Founded mid-2015, EucoLight has quickly embarked into constructive dialogue with relevant stakeholders to provide expertise in the field of management and treatment of WEEE lighting and to promote the positive role of Extended Producer Responsibility schemes on the environment and society.
For more information, visit the EucoLight website www.eucolight.org, follow EucoLight on Twitter (@EucoLight) or contact the Secretary General, Marc Guiraud (marc.guiraud@eucolight.org).