The results of a multi-national study into non-compliance of product sold through online marketplaces were revealed at a conference hosted in Brussels on 6 November by EucoLight.
EucoLight, the European Association for lighting compliance schemes, undertook a study of over 3,000 products made available for sale through online marketplaces in 10 EU countries. The results showed an exceptionally high level of non-compliance with national requirements for financing the treatment of Waste Electrical and Electronic Equipment (WEEE). The non-compliance was evident across a wide range of product groups. However, smaller products, such as LED lightbulbs, were particularly problematic, with non-compliance in the range of 78-100%.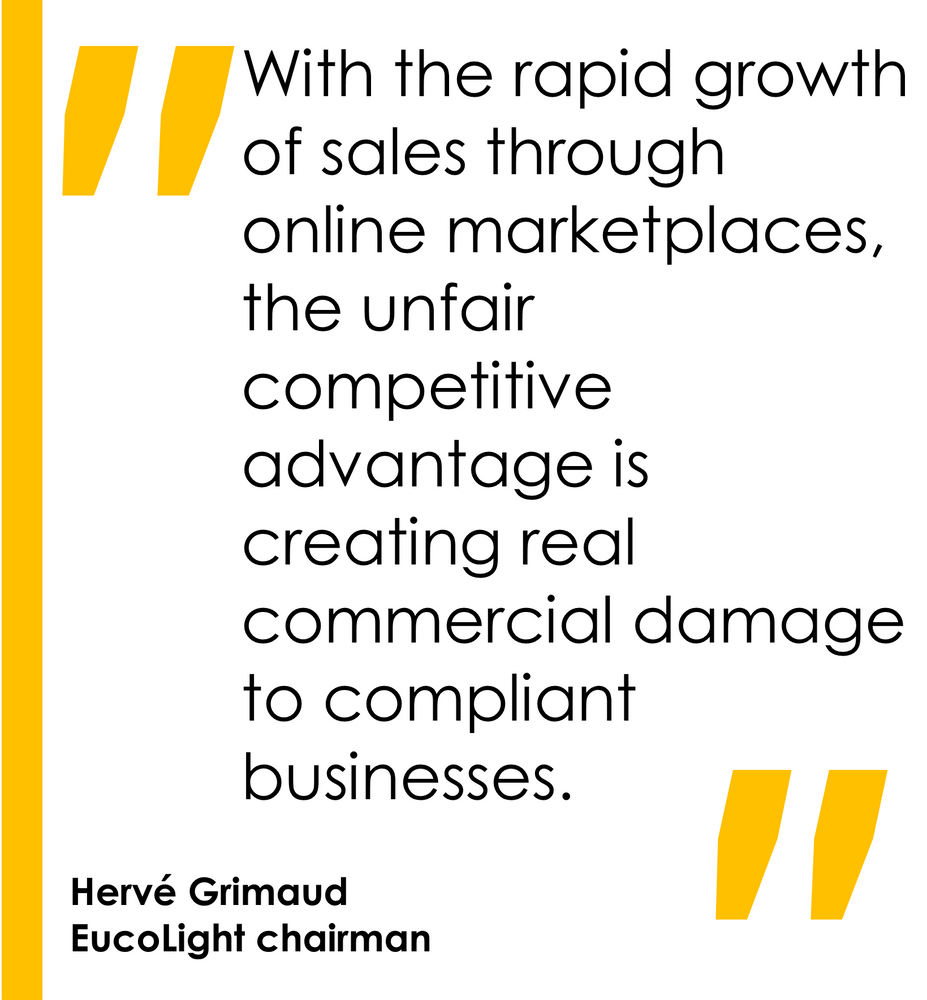 EucoLight chairman Hervé Grimaud said "We are very disturbed by the high level of evasion of WEEE obligations that our study has uncovered. With the rapid growth of sales through online marketplaces, the unfair competitive advantage is creating real commercial damage to compliant businesses."
Presenters from Germany, Spain, the Czech Republic and the UK gave the meeting updates on approaches to tackle the evasion on their national territories. These showed different ways of closing the legislative gaps, and improving enforcement. Representatives of the Commission presented longer term solutions within the Waste Directive, and a new Digital Services Act.
Delegates from online platforms also gave their views. Some stated they should bear no responsibility for WEEE compliance, with others indicating they are willing to take responsibility within new legislative approaches.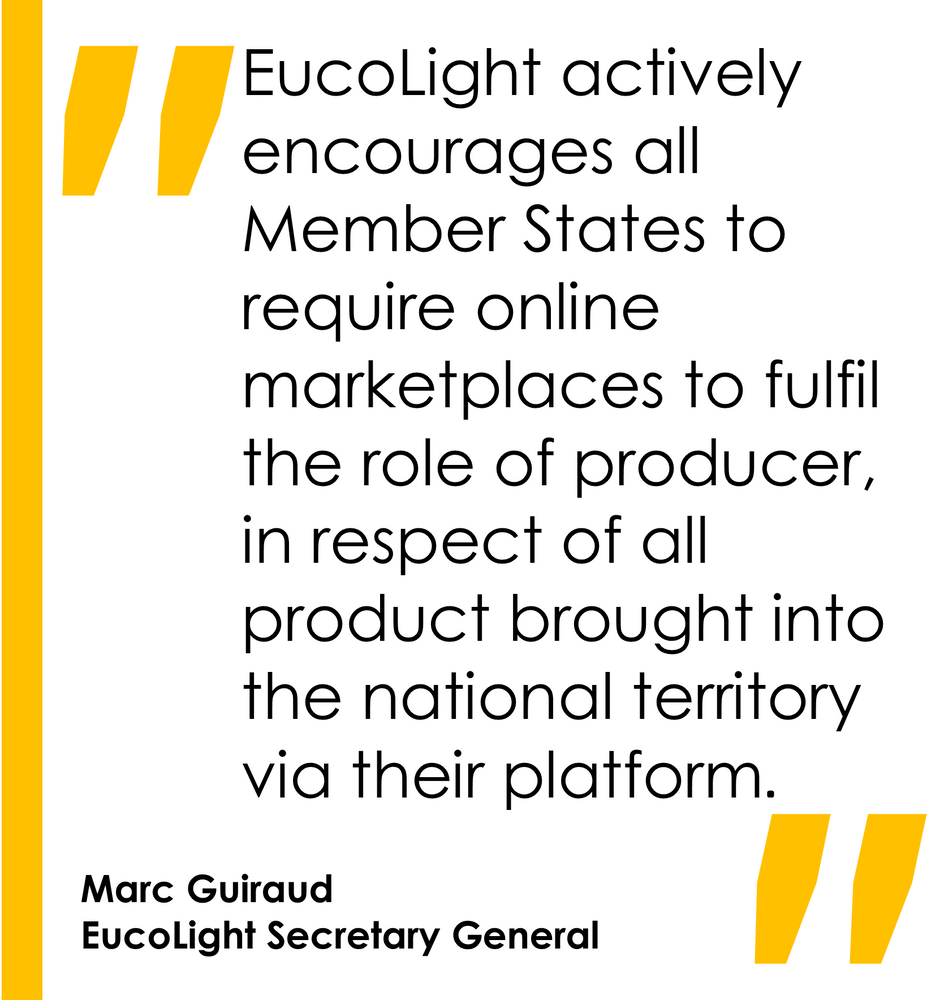 The event ended with a panel discussion, which concluded that WEEE non-compliance creates significant economic damage for compliant European traders and producers, and their WEEE schemes.
Commenting on the outcome of the discussions, EucoLight Secretary General Marc Guiraud said "It seems likely that Member States will implement a range of different solutions to address this injustice. In part, that is because the scale of the problem means we must move faster than the time taken to implement EU wide solutions. When considering which approach to adopt, EucoLight actively encourages all Member States to require online marketplaces to fulfil the role of producer, in respect of all product brought into the national territory via their platform."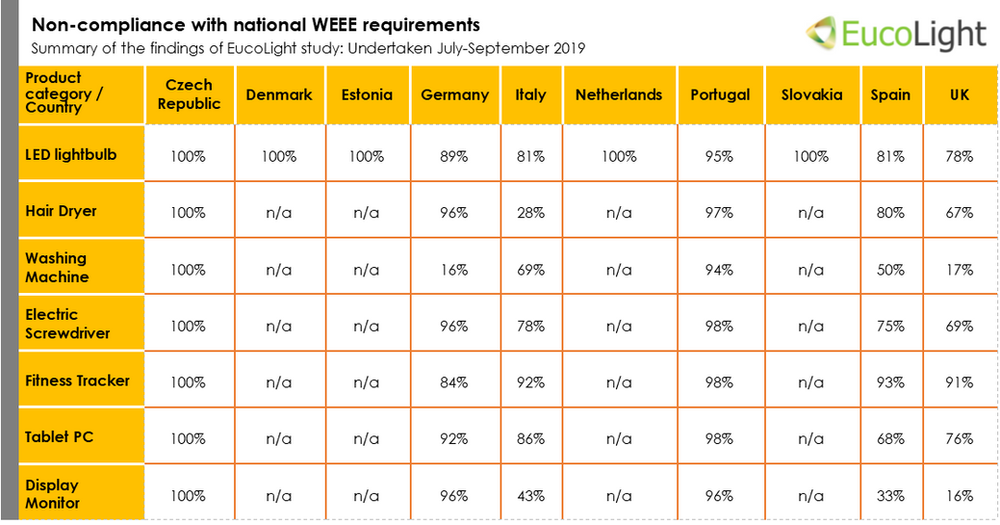 – ENDS –
About EucoLight:
EucoLight is The European association of collection and recycling organisations for WEEE lamps and lighting. On behalf of its 20 members, EucoLight engages with everything related to the WEEE Directive, legislations and standards affecting the collection and recycling of WEEE lighting. EucoLight members collect and recycle, in aggregate, 80 % of the lamp waste collected in the 19 countries in which they operate.
EucoLight is the voice of European WEEE compliance schemes specialised in managing the collection and recycling of WEEE lighting; working to make the circular economy a reality for lighting products.
Founded mid-2015, EucoLight has quickly embarked into constructive dialogue with relevant stakeholders to provide expertise in the field of management and treatment of WEEE lighting and to promote the positive role of Extended Producer Responsibility schemes on the environment and society.
For more information, visit the EucoLight website www.eucolight.org, follow EucoLight on Twitter @EucoLight or contact the Secretary General, Marc Guiraud (marc.guiraud@eucolight.org).